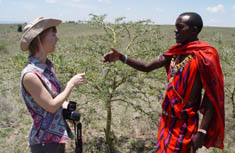 Our ''All-inclusive,Themed responsible Safaris'' ranges from cultural tours, Educational Tours, Philanthropic Safaris to missionary safaris all spiced to enable you travel in style. They include all ground services from the time you arrive into the country to the last day you depart.They have personalised arrangements like meet and greet services, transfers and accommodation.

These Safaris are Excellent for an African safari vacation for either a family or an organized group. We have created a whole range of themed safaris to suit your individual travel needs. These safaris are carefully researched and designed to show you the very beauty of Kenya's heritage. These includes;

FITK - 001:- Kenyan Authentic Eco - Safari
This responsible safari enables you to study, enjoy and admire natural and cultural heritage while accruing tangible benefits for the local communities.Click here for itinerary

FITK - 002:- Missionary Safari
This safari will enable you to visit various less fortunate individuals in Kenya while enyoying the countries unique natural and cultural heritage. With prior arrangements you can initiate a project of your own with our collaboratous. Click here for itinerary.

FITK - 003:- African Cultural Safari
A specially designed safari for those who want to see the true colours of Kenya's heritage combined with a true African hospitality as offerred by FIT - Kenya. It is suitable for organized groups and even families. Click here for itinerary.

FITK - 004:- Educational Safari
This safari is designed for stundents undertaking biological sciences, social studies and community development at various levels. The safari is also suitable for university and college lectures who are interested in advancing their studies, the safari is also appropriate to general public members who are keen in understanding the biological processes in the tropical region. The safari is tailored in such a way that it allows the particapants to understand, enyoy and appreciate the mother nature. Click here for itinerary.