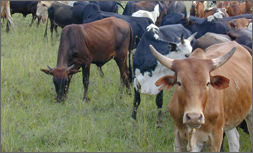 African Pro-poor Foundation (APTF) relies on the generous contributions of individuals, foundations and corporations alike. We believe that philanthropy is a shared responsibility and an opportunity to make a difference in the world. We believe that all of us should have a chance to give and to receive. We see each supporter and collaborating organisation of the African Pro-poor Tourism Foundation as an equal partners in our global network.

Therefore, unlike most nonprofit groups, we do not categorize our supporters by the amount they have donated. We hope each and every donor is reaching to the limit of her or his capacity.

The goal of the centre is to exploit the potentials of tourism to address the various social problems facing marginalised communities such as youth unemployment, poverty and gender inequality. We at APTDC are guided by this slogan "Give the local community a fish and you feed the for today, teach the to fish and you feed them for ever". Some of our supporters are listed below.

Currently, APTF is collaborating with its Kenya chapter, (African Pro-poor Tourism Development Centre) in the development and implementation of its programs at the grassroot levels. Apart from the execution of the programs the Kenyan Chapter is involved in lobbying and advocating for pro-poor tourism policies and women empowerment through tourism.